---
First collaboration with the young vietnamese director Pham Ngoc Lan. splendid gathering and first short fiction movie for Lan. Pham Ngoc Lan a serious name to watch.

For Another City i was in charge the sound design, the sound editing and sound mixing. Lan is an exceptional talent, released of ordinary storytelling. These horizans are open for sound's works
---
Synopsis

A drenched, middle-aged woman sits down on a blue plastic chair in a room undergoing renovation. Placing a bag of fresh vegetables beside her, she starts to blow-dry her hair. Then she takes the wig off. A young man sings karaoke. Tears stream down his cheeks. The tropical waterfall is a wallpaper mural. And the dance begins. The protagonists in Another City search for opposition and togetherness. A well known Asian pop song unites the protagonists across time and space. In order to really meet, the city is the place that must be urgently abandoned.
---
Technical specs – IMDB
Vietnam 2016
25 min.· DCP Color
Director, Scriptwriter : Pham Ngoc Lan
DOP : Le Kim Hung
Editor : Pham Thi Hao
Sound design / Sound editor / Mixing : Arnaud Soulier
Music : Khac Hung
Producer : Ngo Dai Trang

Casting
Minh Chau
Vu Do Quang Minh
Dang Tuan Anh
Khong Viet Bach
Thuy Anh
Awards & Selections – IMDB
Release Dates – IMDB
---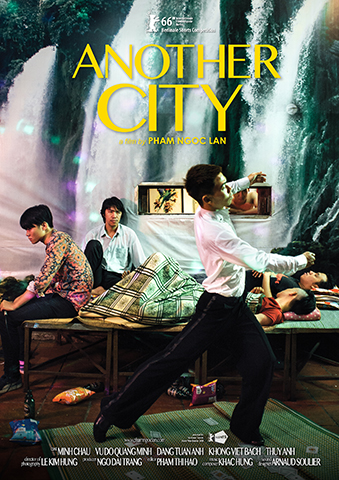 ---
---