Master Class – Daniel Deshays
Week of sound – Tuần lễ âm thanh
Journey to the land of sounds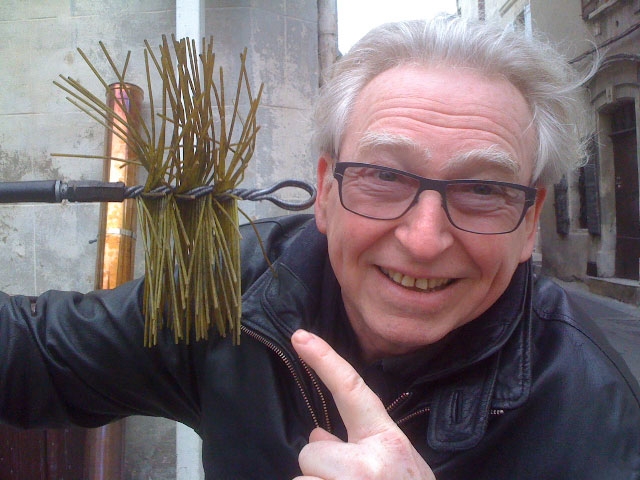 Journey to land of sounds
Presentation
Daniel Deshays, sound engineer, sound director, lecturer, essayist and university professor, author of numerous books on the subject, he is little known to the general public. However, it is one of the last references in the field of sound since the disappearance of Antoine Bonfanti and Yann Parenthoën.
Daniel Deshays has collaborated with many filmmakers, theater directors, choreographers, artists and museum curators. Through and through sound, he has spent forty years constantly exploring new sonic territories. He practices sound as well as he theorizes it.
For this week of sound, we are proposing to organize screenings together, in the form of participatory seminars, based more mainly on sound in the cinema.
Daniel Deshays will be our facilitator for this seminar on sound. Many film clips will be screened, each of them raising a unique question around sound. It will accompany the spectators in a reflection each day a little more complete on the sound. At the end of each meeting, in the evening, a film will be screened in its entirety, followed by an exchange with the public.
These meetings will aim to awaken the spectators to a sound sensitivity towards the cinema.
Master Class presentation by Daniel Deshays
We heard nothing! This is the observation that must be made when leaving a screening. If the images endure in us, the sounds have already flown away. Perhaps remains a ritornello, little more … Yet our body has been upset. By what ? In the cinema, everything is experienced globally, it is the synchronism uniting images and sounds which, by its formidable fusional power, keeps us away from an awareness of the separate existence of the two constituents of cinema. Studying sound, this hidden side, encourages us to first understand the reasons for its disappearance. We are not, however, so deaf; why is this object so little considered by the public, the critics, even the filmmakers themselves? We will try to reveal here, through the unique works of the history of cinema, some of the keys to the writing of sound.
Daniel Deshays
Journey to land of sounds
Day 1 – Part 1 – Listening the cinema
Speaker: Daniel Deshays
Live vietnamese translation: Tran Phuong Thao
Coordinator: Arnaud Soulier

Excerpts : Stalker – Andrei Tarkovski
Day 1 – Part 2 – Listening the cinema
Speaker: Daniel Deshays
Live vietnamese translation: Tran Phuong Thao
Coordinator: Arnaud Soulier

Excerps: Mr Hulot Holidays- Jacques Tati
Day 2 – Part 1 – Noises in cinema
Speaker: Daniel Deshays
Live vietnamese translation: Tran Phuong Thao
Coordinator: Arnaud Soulier

Excerps:
Elephant – Alan Clarke
Our daily bread – Nikolaus Geyrhalter
Day 2 – Part 2 – Noises in cinema
Speaker: Daniel Deshays
Live vietnamese translation: Tran Phuong Thao
Coordinator: Arnaud Soulier

Excerps:
Blockade – Sergueï Loznitsa
Dogville – Lars von Trier
Day 3 – Part 1 – Voices in cinema
Speaker: Daniel Deshays
Live vietnamese translation: Tran Phuong Thao
Coordinator: Arnaud Soulier

Excerps:
The dream of Sao Paulo – Jean-Pierre Duret
Landscapes – Serguei Loznitsa
Visit at Louvre – Jean-Marie Straub et Daniel Huillet
Day 3 – Part 2 – Voices in cinema
Speaker: Daniel Deshays
Live vietnamese translation: Tran Phuong Thao
Coordinator: Arnaud Soulier

Excerps:
Me, a Black – Jean Rouch
India song – Marguerite Duras
The territory of others – F. Bel – G. Vienne – M. Fano
Day 4 – Part 1 – Musics in cinema
Speaker: Daniel Deshays
Live vietnamese translation: Tran Phuong Thao
Coordinator: Arnaud Soulier

Excerps:
The birth of Love – Philippe Garrel
Big Ben – Johan Van Der Keuken
First name Carmen – Jean-Luc Godard
Day 4 – Part 2 – The assembled territories
(End)
Speaker: Daniel Deshays
Live vietnamese translation: Tran Phuong Thao
Coordinator: Arnaud Soulier

Excerps:
Mulholland Drive – David Lynch
(Making Off) Road One USA – Robert Kramer
End of Master Class
Evening screenings, Daniel Deshays presentations here