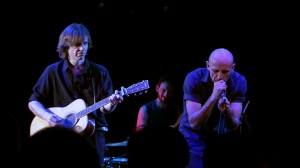 Concert of STiMBRE at Zèbre de Belleville in Paris
This concert was recorded with Sound Devices 664 plus the remote CL6 to have 12 tracks. I recorded with sub from mixer sound plus one SHOEPS LCR in the room.
For picture, we used one Sony Z7 and two Sony HVR A1-E.
Technical specs band
Vocals : STiMBRE
Guitar : Thibault Abrial
Guitar : Justin Millot
Drums & Bass : Julien Perraudeau
Artistic Director : Gaëlle Chalton
Website : www.stimbre.com
Technical specs
Concert – 1h05 – HDV
Director : Arnaud Soulier
Production : Les films de mars
Cameramen : Laurent Hasse, Emmanuelle Le Fur, Boris Mélinand
Sound : Arnaud Soulier
Editing : Arnaud Soulier
Mixing : Julien Perraudeau
Lighting design : Jean-Philippe Viguié
Technical resources : Les films de mars / Acrobates Films / Donuts Films / DCaudiovisuel