First collaboration with Olivier Lorelle, a pleasure. Generosity and humanity summarize the work of Olivier. Filmed with two cameras, FX700 and Alpha 7, the sound equipment configuration required for this working method is close to the documentary. You had to be light and mobile for this film, which is like a road movie, "walk movie" in the jungle and the Vietnamese mountain.
So I worked with a Sound Devices 788T recorder coupled to an Oktopack equipped with antennas ALP and wireless system Lectrosonics. Sanken COS 11 capsules to connect with two Neumann KM140. Also for issue of high humidity, Shoeps microphone use is not possible in Vietnam.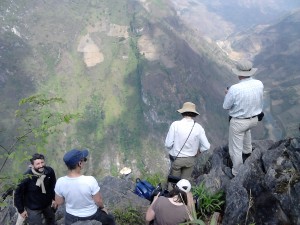 RED SKY
Feature film by Olivier Lorelle
Casting : Cyril Descours, Audrey Giacomini
French Release August 23th 2017
Synopsis
Thunderbolt complicated between a young French soldier and a young Vietnamese soldier, in 1947, at the beginning of the war in Indochina.
Technical Specs
Director : Olivier Lorelle
Production : Mille et une productions
Producer : Édouard Mauriat et Anne-Cécile Berthomeau
Executive Producer Vietnam : Viet Nu / Nguyen Thu Chieu Xuan
Director assistant : Haiga Jappain
DOP : Jean-Marc Bouzou et Yvan Quéhec
Camera assistant : Prisca Bourgoin
Scripte : Sophie Audier
Location recordist : Arnaud Soulier
Booman : Hoang Thu Thuy
Runers : Tran Phuong Thao / Le Hoang Lan
Art director : Truong Trung Dao
Editor : Cécile Dubois
Sound editor : Mikael Barre
Casting
Cyril Descours
Audrey Giacomini
Photos